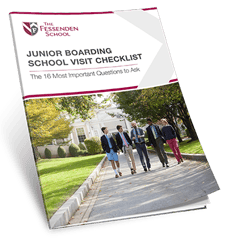 Junior Boarding School Visit Checklist
The 16 Most Important Questions to Ask
Choosing the right junior boarding school for you son will give him the opportunity to experience the rich boarding culture, create memories and connections that will last a lifetime, and prepare him, both intellectually and socially, for secondary school and beyond. But how can you make the most of the precious few hours you'll spend visiting each school?
Download this 16-question Checklist to learn who you should talk to, and what you should ask, during your school visits. These key questions will help you effectively compare your options and determine which school will be the best fit for your son and family. Questions like:
For Admissions staff: What is there to do on weekends?

For teachers:

Why do you teach here?
For current boarders: Who is your favorite teacher, and why?
And more . . .
Fill out the form on this page to receive your Checklist.